Kerrie Hess Beginner Course in Painting Watercolour Flowers
BLACK FRIDAY | FREE Small Brush Set with every enrolment! Reclaim your inner calm and creativity through painting flowers in watercolor. A joyful online course for beginners.
Watch Promo
Enroll in Course
ENROLMENTS ARE OPEN!
Six joyful lessons of painting florals in watercolor for beginners / AUD$297
Study completely at your own pace with LIFETIME ACCESS for those enrolled.
Start the course according to your own schedule, and study online from the comfort of your home.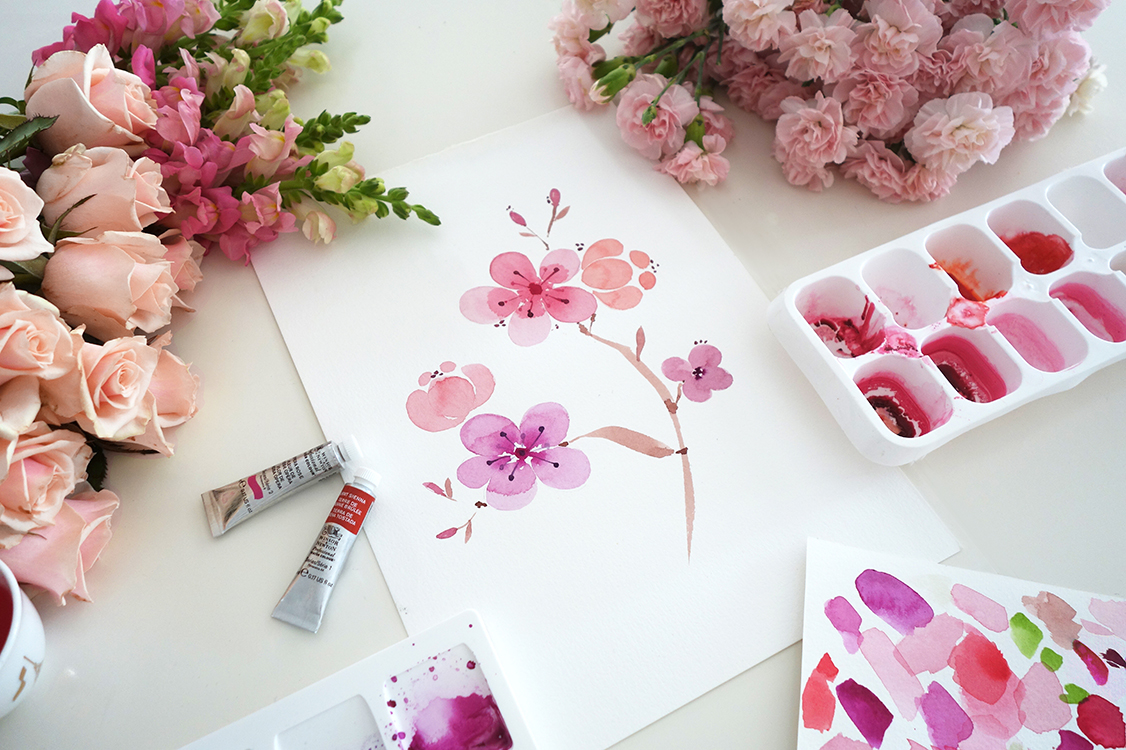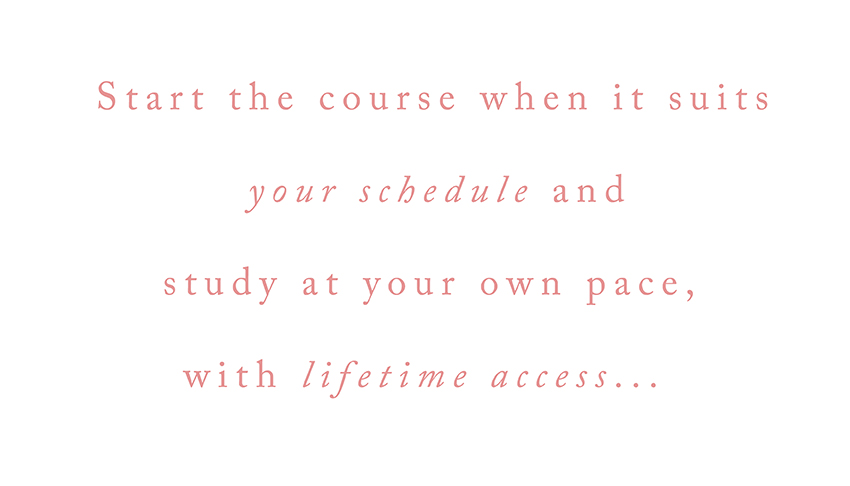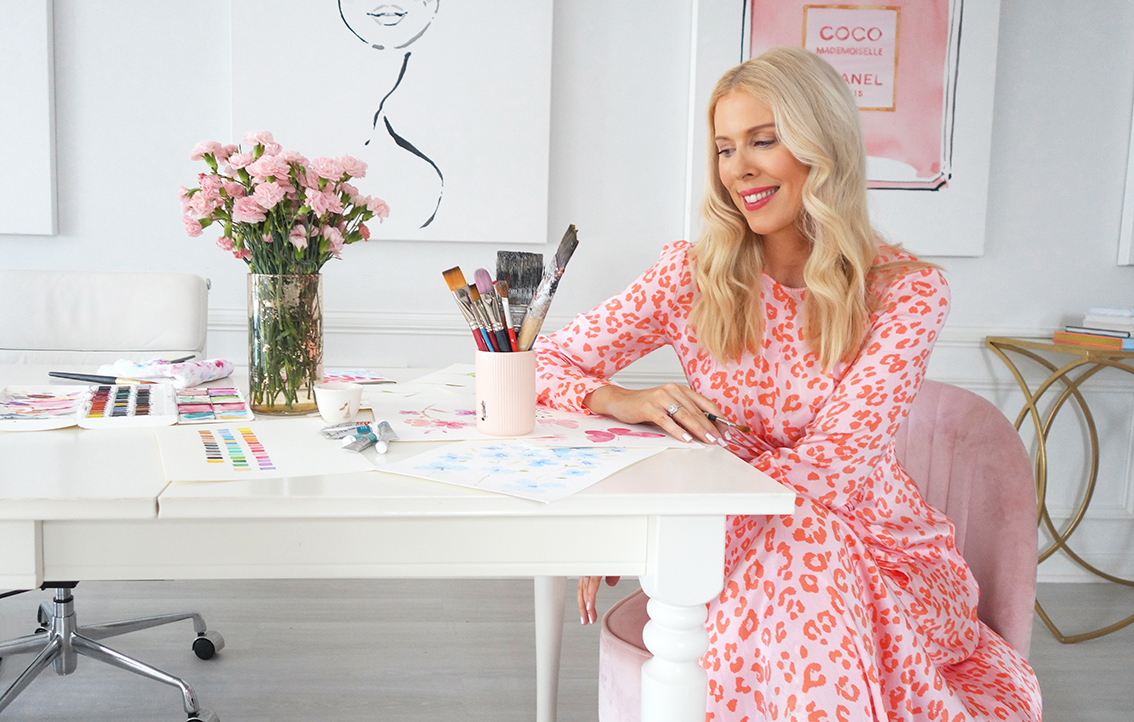 Who is this online course for?
This is a six module online course for anyone who wants to reclaim their creativity and a sense of calm. It's perfectly suited to a complete beginner in watercolor, with flowers being a perfect simple and joyful introduction subject to watercolor painting...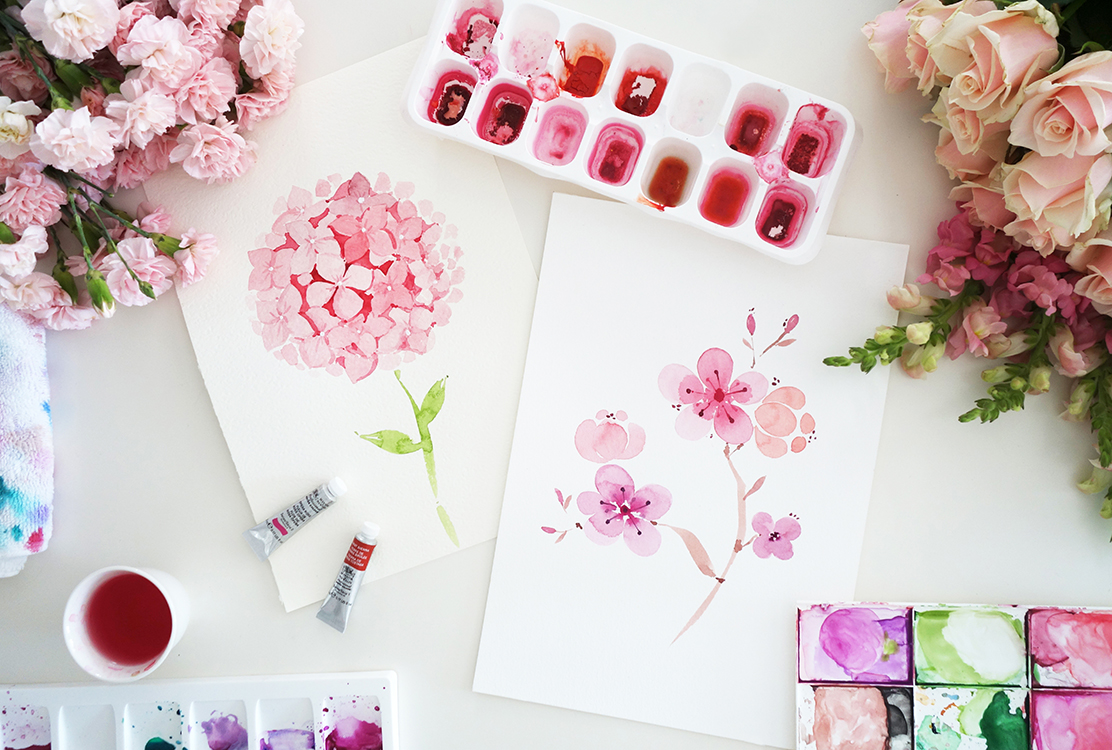 I'll guide you through every step of each lesson on video, providing you with drawing templates for the more detailed modules. I'll also show you how to fix mistakes along the way. Just set up and paint along with me... A wonderful kind of meditation for those (like myself) who find a sense of calm more easily through creativity than sitting in the lotus position!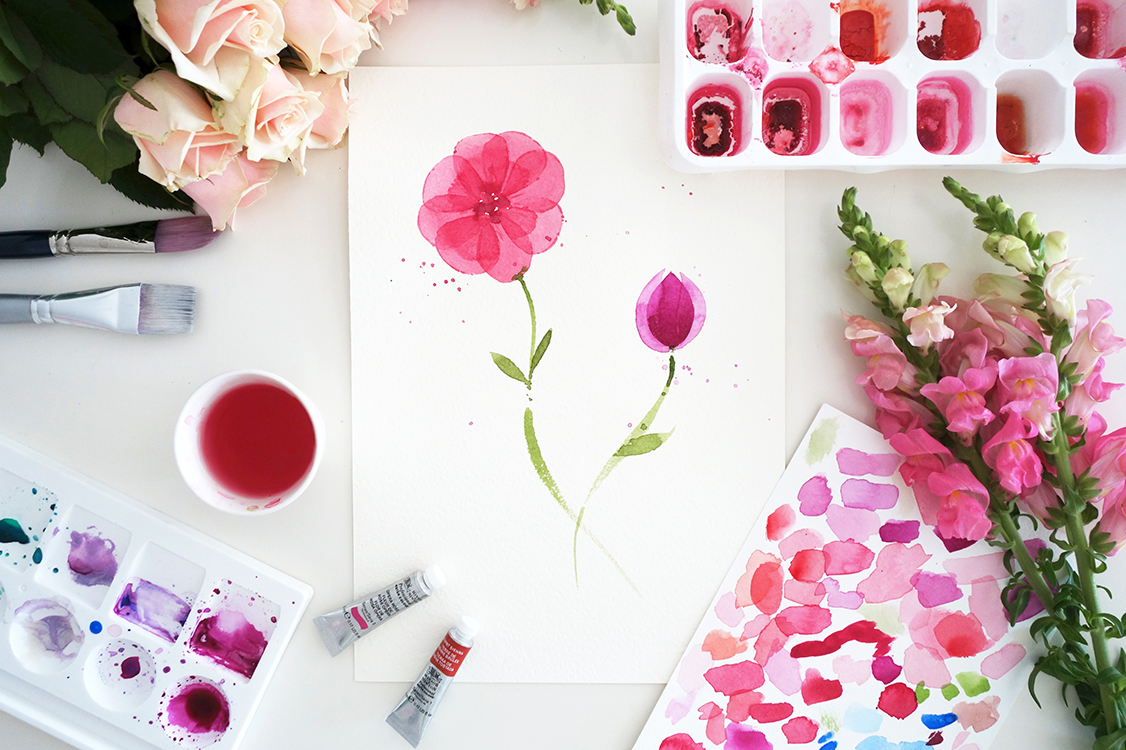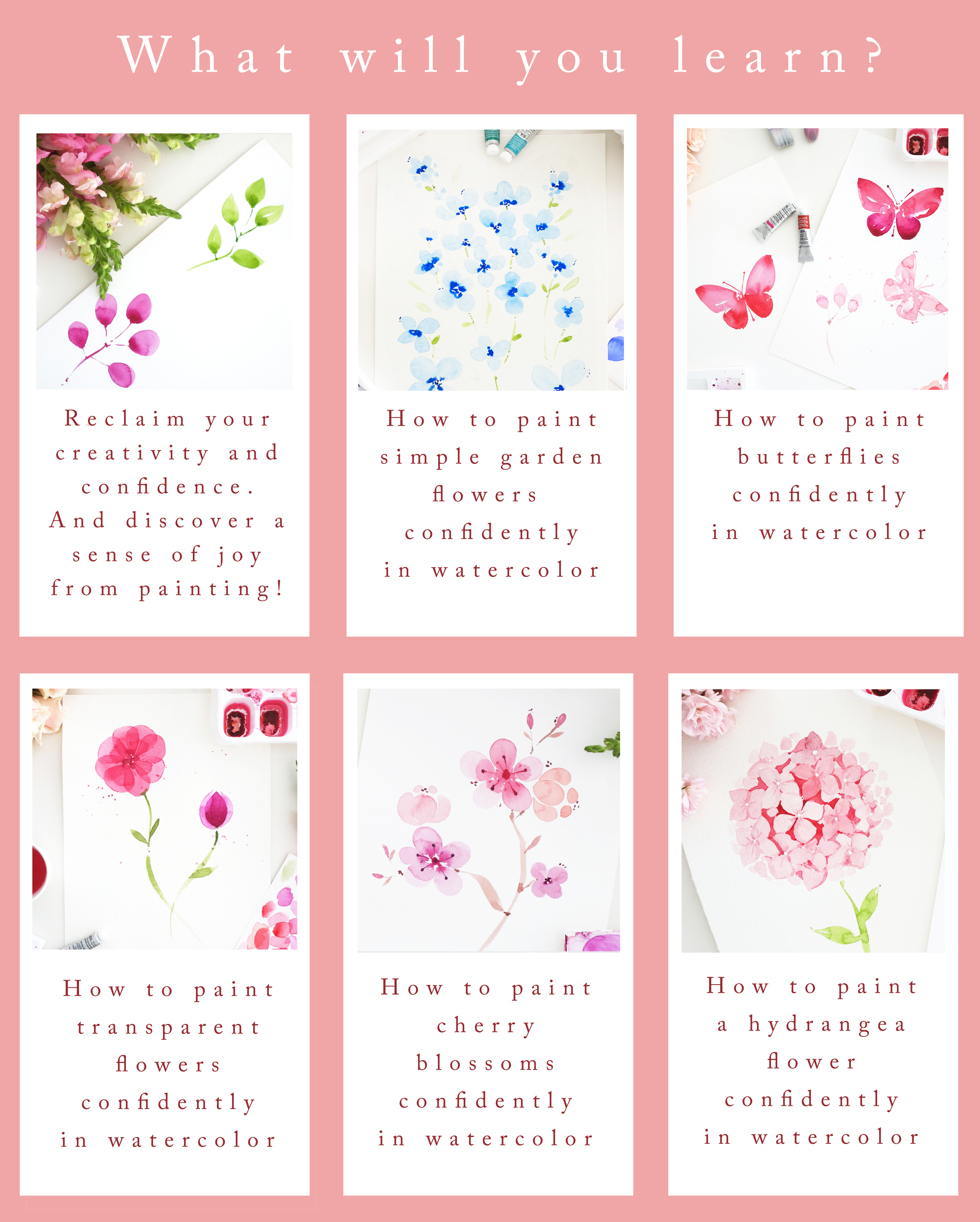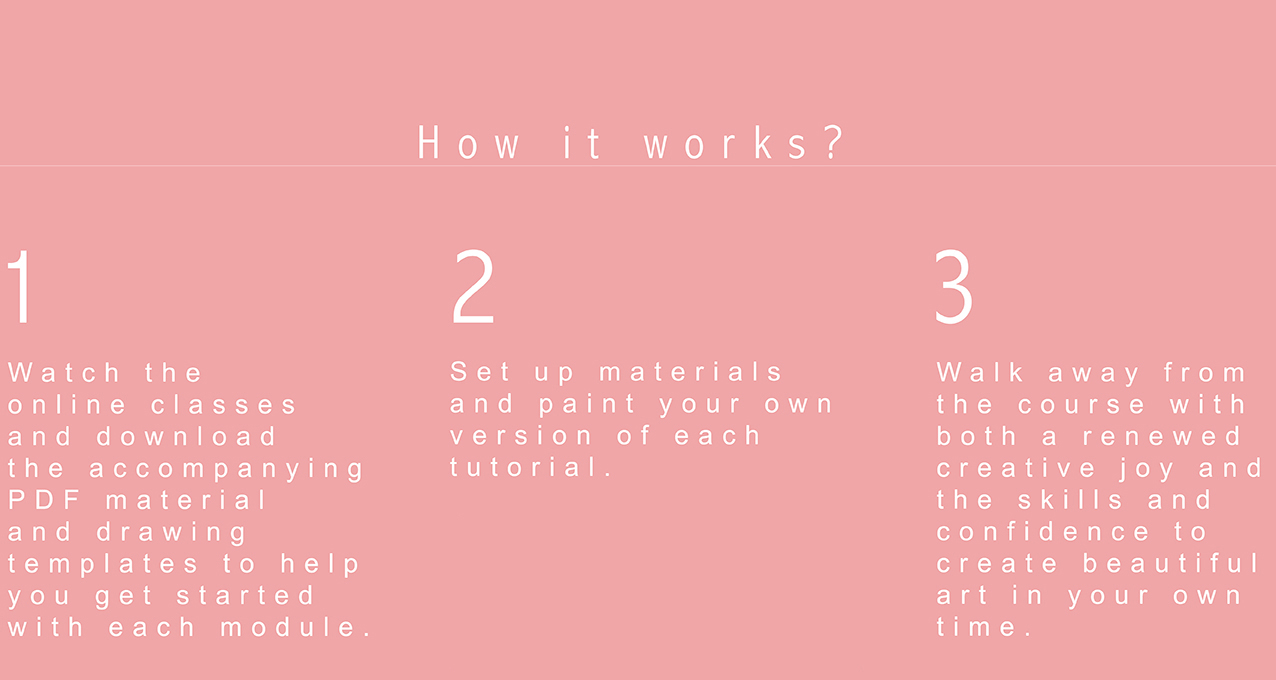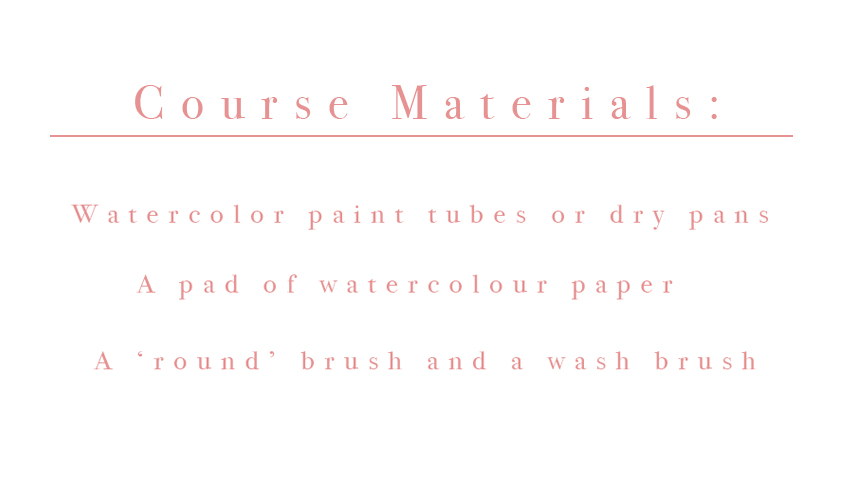 What you will get from the course?

• Video learning modules, painted out step by step
• Drawing templates for several of the modules
• Additional document material and checklists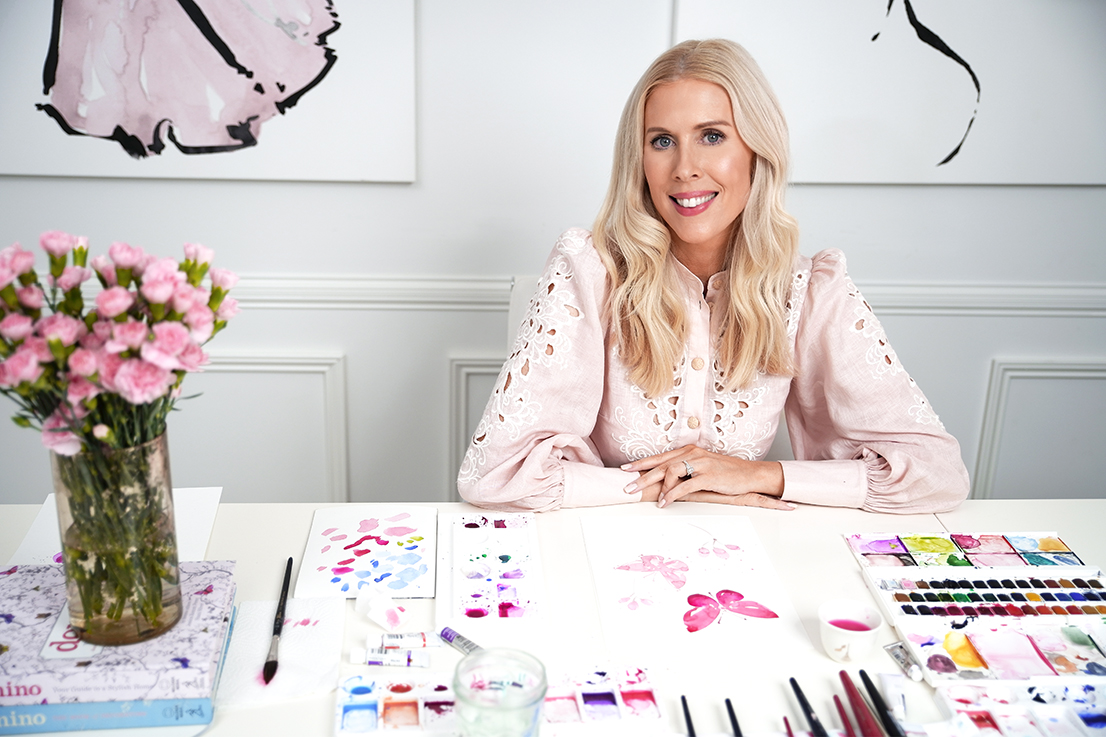 What outcomes should I expect from the course?
• Reclaim your confidence to be creative.
• Furthering your joy for painting, whether art for you is your hobby or career.
• For those who are complete beginners - a new love of painting and confidence with materials and techniques to create your own pieces for home, commercial clients or to exhibit.
• For those who are already familiar with watercolor painting - a refined knowledge of all of my painting tips, tricks and techniques for flowers. An element that can then be applied into larger pieces if desired.
• Frame worthy pieces of your own work, and a sense of pride in creating beautiful original art.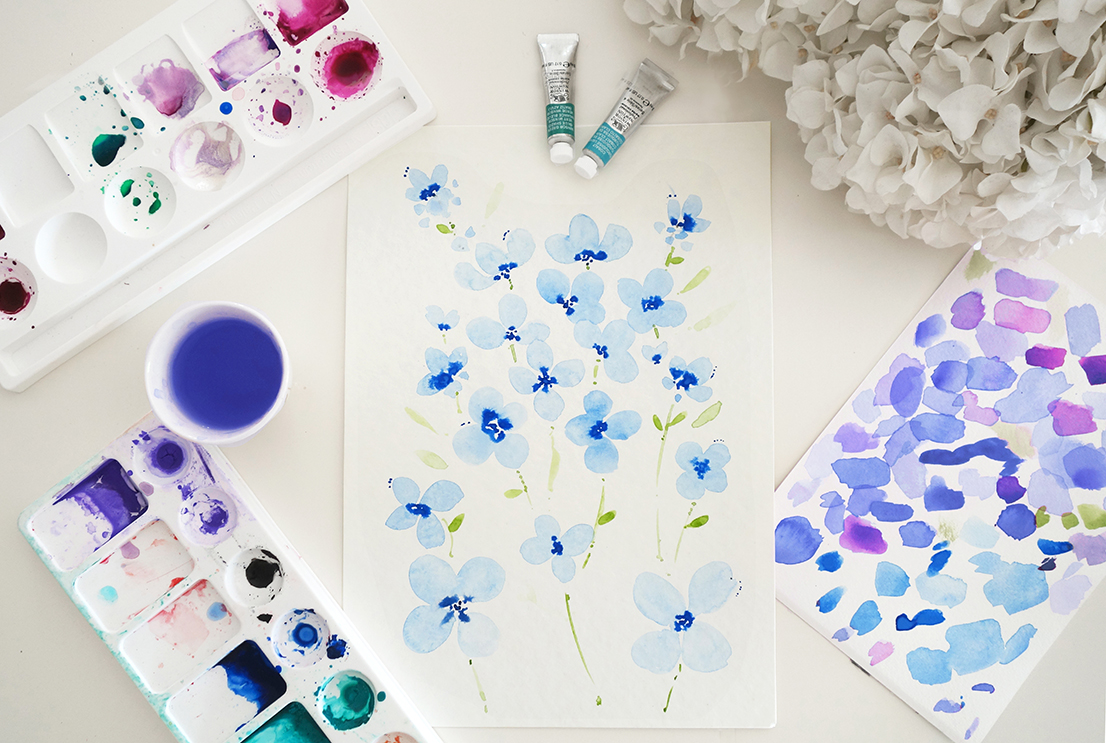 Course Modules
• Materials needed for the course and how to paint simple leaves in watercolor
• How to paint simple garden flowers in watercolor
• How to paint simple butterflies in watercolor
• How to paint simple transparent flowers in watercolor
• How to paint cherry blossoms in watercolor
• How to paint a hydrangea flower in watercolor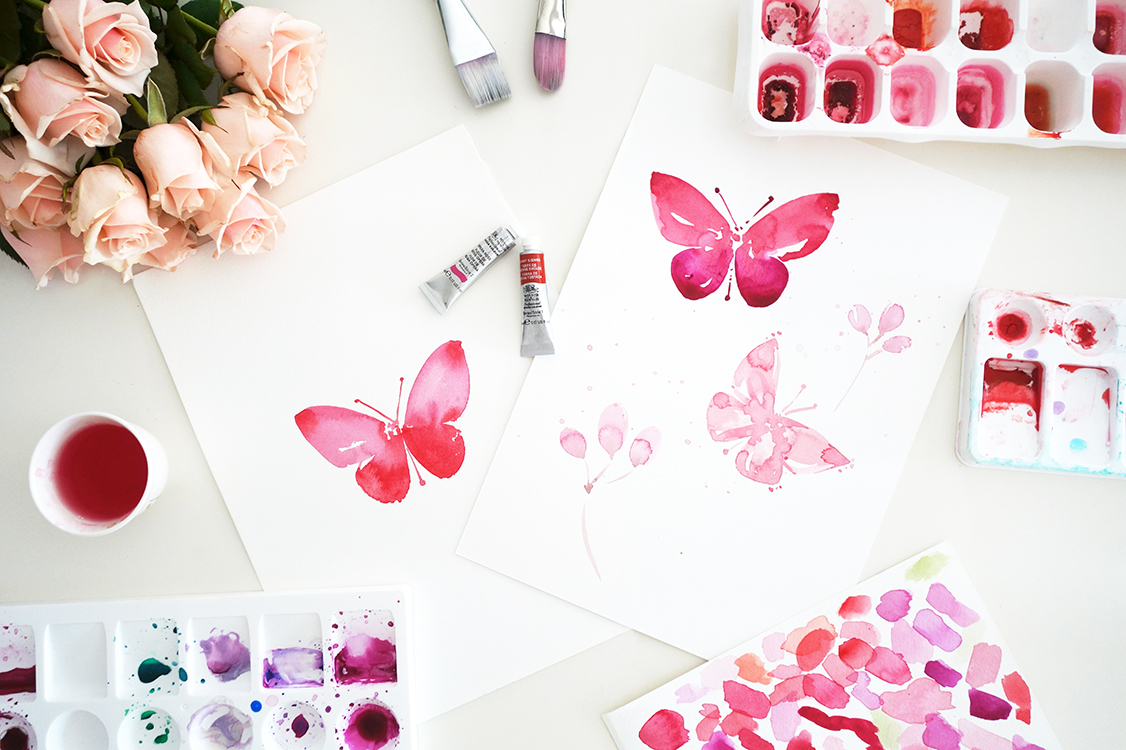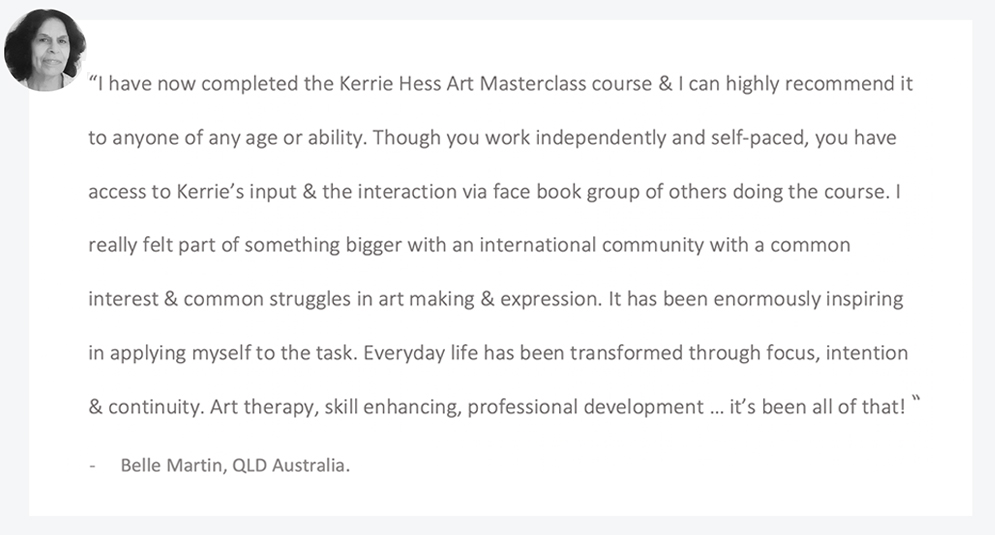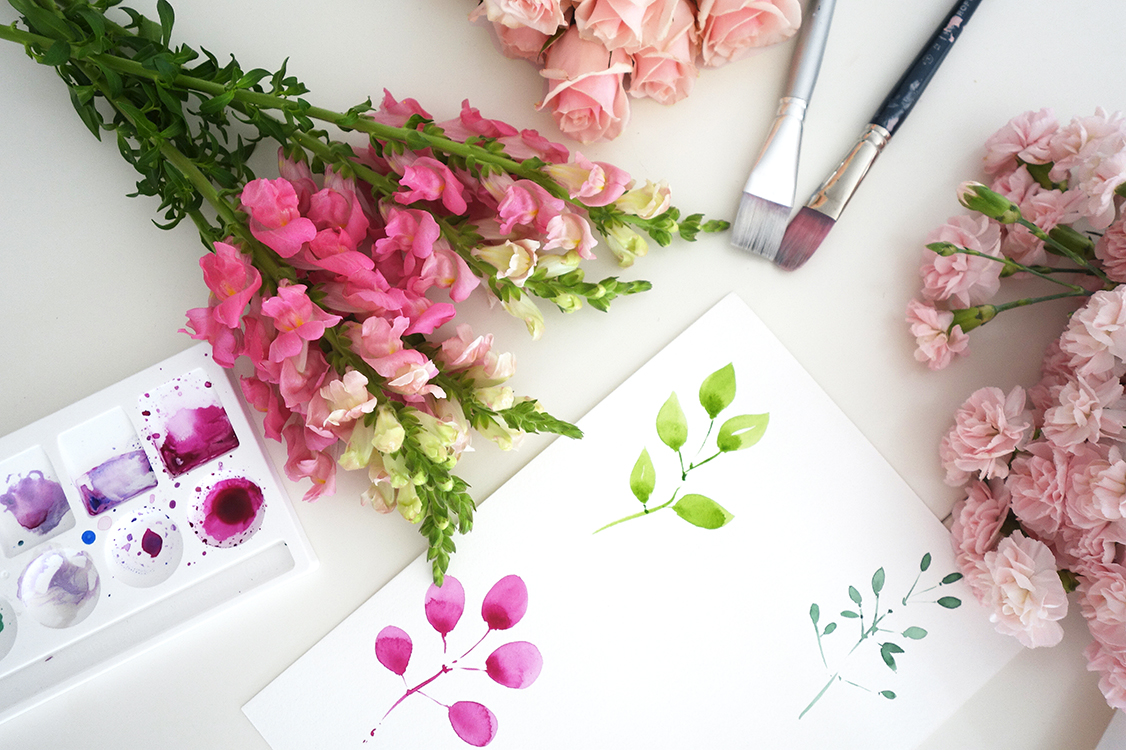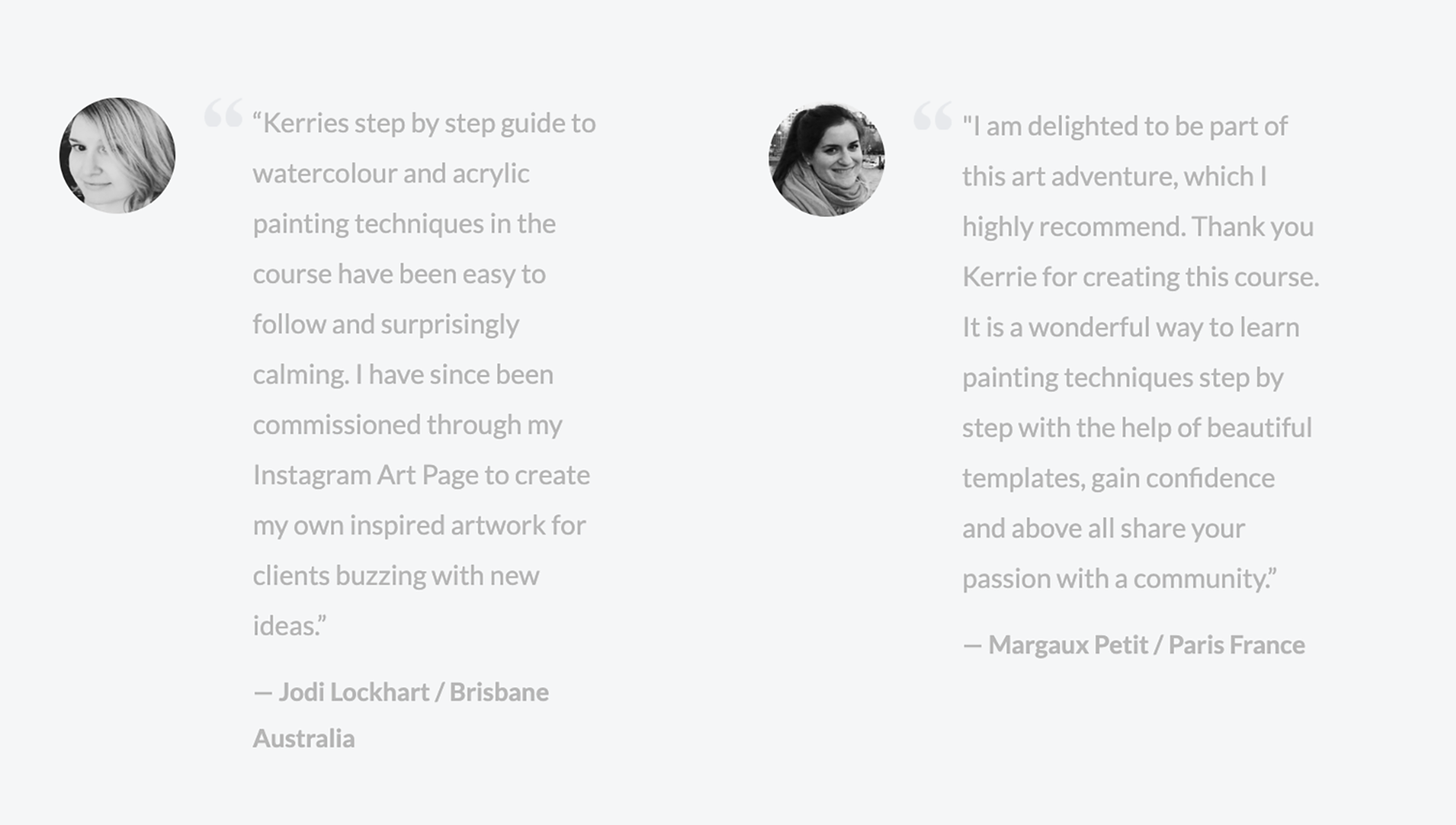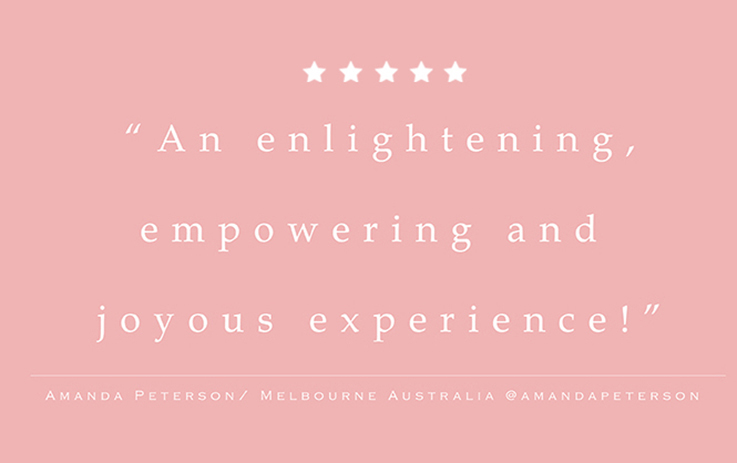 Your Instructor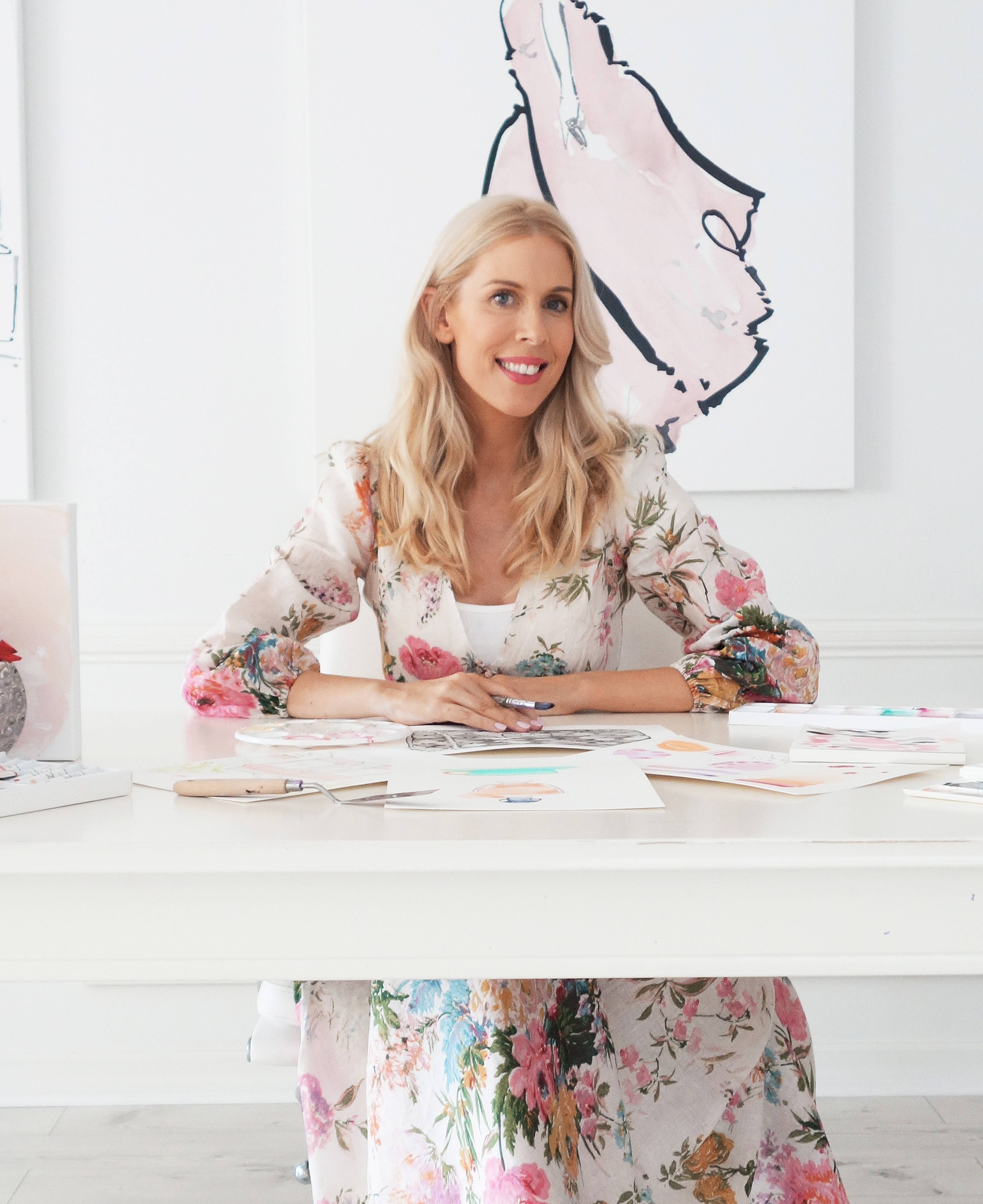 Kerrie Hess is an internationally renowned fashion illustrator and artist from Australia. She is self taught in painting over a period of twenty years.
Following one year as a Graphic Designer at The Independent Newspaper in London, Kerrie Hess started out professionally as an artist with her first commissions with VOGUE Australia and Topshop's Arcadia Group at the age of 19. The move to full time art and illustration followed with Kerrie illustrating fashion windows in the US for Neiman Marcus Department Store at just twenty; commissions for NET-A-PORTER, Harvey Nichols and Laduree Paris. As well billboards and window's in Paris for 'Printemps Department Store.'
Kerrie has illustrated a capsule collection of textiles for Kate Spade New York as well as for CARTIER and Tiffany and Co. Kerrie has illustrated the 15th Anniversary cover of Harper's Bazaar and the global 'Paper Dolls' project for Louis Vuitton Paris. Kerrie is the first Australian artist to hold a solo exhibition in Paris at Le Meurice Hotel Paris in Salvador Dali's former art and music ballroom 'The Salon Pampadour', which opened in Jan 2012. Kerrie has illustrated the windows of Harrods London three times between 2015 and 2017.
Kerrie now lives in Australia with her son Marcel since returning from France. Her art prints, original works and art supplies are available at: http://www.kerriehess.com
Frequently Asked Questions
When does the course start and finish?
Once enrolled, this is a completely self-paced online course - you decide when you start and when you finish. The choice is yours!
Once enrolled can I take the course at my own pace or do I need to stick to the 6 week schedule from enrolling?
Once enrolled you can complete the course completely at your own speed. We recommend doing and completing one module per week but you can absolutely schedule your learning speed at your own pace!
How long do I have access to the course?
You have lifetime access! After enrolling, you have unlimited access to this course for as long as you like - across any and all devices you own as long as the course exists.
What if I am not yet confident with my drawing skills?
As part of the course, included in most watercolour modules are the exact templates that you will see Kerrie painting just to make life a little easier. You can choose to either use the exact module template and follow along with Kerrie or you can sketch out your own drawings if you are already confident in drawing.
What currency is the course in?
The currency of the course is in AUSTRALIAN DOLLARS. AUD$297 is approximately $193 US Dollars / or 178 Euros / or 155 British Pounds in total.
Am I able to pay over several months rather than in one go?
You definitely can! You can choose either a one off payment of AUD$297, or AUD$150 split across two monthly payments.
How much do the materials cost to do the course?
In general here are my suggestions regarding supplies:
MATERIALS: If you are a complete beginner I would suggest that you purchase the basic versions of : A set of watercolour tubes, ('Reeves' is a good example) an A4 book of watercolour 300gsm textured paper. And a selection of around 4 brushes.
Already an artist: You may already have some of the supplies on the list. If not you might invest in the level up from basic on all of the items above. I use paint brand Winsor and Newton (both tube paint and pan palette). A brand worth investing in if move to/ are already at the next level in painting in watercolor.
Will I receive an official certificate of completion at the end of the course?
Yes you will! For this course there is a downloadable certificate on completion.
What is a next step from this course? The Kerrie Hess Masterclass in painting is the perfect next step up from this course. You can find out more about this 12 Week Masterclass here:
Course Curriculum
Introduction : About this six module course.
Available in days
days after you enroll
Getting started : Materials and painting simple leaves in watercolour
Available in days
days after you enroll
Painting simple garden flowers in watercolour
Available in days
days after you enroll